ARE YOU READY TO FEEL MORE ORGANIZED AND BE MORE PRODUCTIVE EVERY SINGLE DAY?
THEN WONDERFUL PLANS IS PERFECT FOR YOU!
IN THIS WORKBOOK YOU'LL LEARN ALL OF MY BEST SYSTEMS, TIPS, AND TRICKS FOR BEING MORE PRODUCTIVE AND ORGANIZED.
YOU KNOW YOU SHOULD BE PLANNING YOUR GOALS, BUT YOU'RE FEELING STUCK, OVERWHELMED AND TOO BUSY BY EVERYTHING ELSE IN YOUR LIFE
DO ANY OF THESE SOUND FAMILIAR?
😰YOU STRUGGLE WITH HOW TO STRUCTURE AND SCHEDULE YOUR DAYS AND WEEKS TO BE PRODUCTIVE

✍️YOU ARE ALWAYS PLANNING BUT NEVER TAKING ACTION

🚫YOU ARE ALWAYS PUTTING OFF IMPORTANT TASKS AND MISSING DEADLINES

😫YOU ARE FRUSTRATED WITH NOT BEING ABLE TO GET THINGS DONE

🤔YOU OVERTHINK EVERYTHING AND HESITATE TO START ANYTHING BEFORE YOU FEEL READY

😨YOU FEEL LIKE IT'S IMPOSSIBLE TO TAKE TIME TO ENJOY LIFE BECAUSE YOU'RE ALWAYS WORRYING ABOUT WHAT NEEDS TO GET DONE

👨‍👩‍👦‍👦 IT FEELS LIKE YOU NEVER FINISH ANYTHING BECAUSE YOU ARE SO BUSY WITH LIFE'S EVERYDAY TASKS
WHAT ABOUT THESE...?
📒TRYING TO KEEP UP WITH SEVERAL PLANNERS TO JUST END UP GETTING OVERWHELMED AND NEVER USING ANY OF THEM
🖨 SETTING UP A MILLION BINDERS AND PLANNER SYSTEMS BUT NEVER REALLY UTILIZING A SYSTEM TO ACTUALLY USE THEM
📑LOSING ALL OF YOUR GREAT IDEAS AND PROJECTS BECAUSE YOU SCATTERED THEM THROUGHOUT A MILLION NOTEBOOKS, SCRAP PAPERS, PLANNERS, NOTEPADS AND MORE.
DID YOU NOD YOUR HEAD TO ANY OF THAT?
GOOD. YOU ARE IN THE RIGHT PLACE.
You are NOT alone! Not knowing how to become productive is far more common than you'd think.
I ought to know, because I've been in the exact same spot before.
---
CAN YOU IMAGINE HOW IT WOULD FEEL TO FINALLY HAVE YOUR LIFE ORGANIZED?
⌚️YOU KNOW EXACTLY WHAT TO WORK ON AND WHEN.

⏰YOU ARE NEVER LATE FOR ANYTHING.

🎁YOU BOUGHT A PRESENT, WRAPPED IT AND WAS READY WELL BEFORE THAT PARTY STARTED.

😊YOU ARE NOT WORRYING ABOUT EVERYTHING YOU HAVE TO DO EACH AND EVERY DAY.

🧘‍♀️YOUR MORNINGS AND EVENINGS ARE CALM AND RELAXED

🏡YOUR HOUSE IS ORGANIZED AND CLEAN AND YOU KNOW EXACTLY WHERE EVERYTHING IS

👯‍♀️ YOU HAVE TIME FOR BOTH WORK AND PERSONAL TASKS SUCH AS WORKING OUT, HANGING OUT WITH FRIENDS, DATE NIGHTS ETC.

🤔WHEN YOU GET THE URGE TO PROCRASTINATE, YOU REFER TO YOUR WORKSHEETS TO HELP YOU

✍️YOU SET UP YOUR LIFE TO HELP YOU LIVE A HEALTHIER LIFE WITHOUT HAVING TO RELY ON MOTIVATION
THE TWO REASONS WHY YOU'RE NOT GETTING ANYTHING DONE
1. You don't have a system
2. You aren't managing your thoughts
Good news, you can finally start getting things done…
INTRODUCING WONDERFUL PLANS
Learn ALL the skills, strategies & tools you need to create a planning system to get things done — strategies that will dramatically save you time, end procrastination and help you be more productive.
All in an extremely actionable planner and workbook.
In Wonderful Plans, you'll learn how to actually plan, organize your entire life, and stop procrastinating!
This workbook will help you create these rules, routines and systems so you can achieve your best life, while enjoying the process.
Thanks to "Wonderful Plans", you will finally start getting the best results and take concrete steps toward the life of your dreams!
As a person who has struggled with procrastination, I have searched high and low to find the best strategies to fix these problem.
I can end your frustration with searching through all the information on the internet about productivity and procrastination.
I will walk you through the exact process and system I use to help people get all the info they need to be organized and successful.

HERE'S HOW WONDERFUL PLANS IS DIFFERENT...
WONDERFUL PLANS IS THE FIRST OF ITS KIND THAT NOT ONLY TEACHES YOU HOW TO SET GOALS AND PLAN THOSE ACTIONS OUT, BUT ALSO HOW TO STAY CONSISTENT AND STREAMLINE YOUR ACTIONS EVERY SINGLE DAY
You will learn how to focus and finish, rather than just starting and planning.
You will get checklists, timelines, planners, and schedules to help you stay consistent each and every day.
The beauty of Wonderful Plans is that it's completely individual and customizable. But we know that sometimes it can feel a little easier to get started when you have and example to model.
That's why we created a variety of done-for-you example routines, cleaning checklists and weekly schedules.
You will learn how to stay focused, identify and eliminate your energy leaks and structure your days for maximum productivity.
You will learn exactly how to plan your projects, your year, months, weeks and days.
You will finally get clear on EVERYTHING on your plate.
You will learn how to tweak and change your plans easily so you can stay in control of your life even when it gets crazy.You will learn how to make time in your schedule so the important things actually get done.
You will finally know where to look for information that you'd otherwise forget.
You will be shown how I use digital systems to manage my life.
You will learn what to do with all those little pesky tasks that take up much of our day without us even realizing.
You will finally have a consistent system for keeping track of things that should be done regularly.
You will finally be able to reach your goals because you've made more time in your life for them.
HERE'S WHAT YOU'RE GOING TO GET:
---
PRINTABLE AND DIGITAL PLANNERS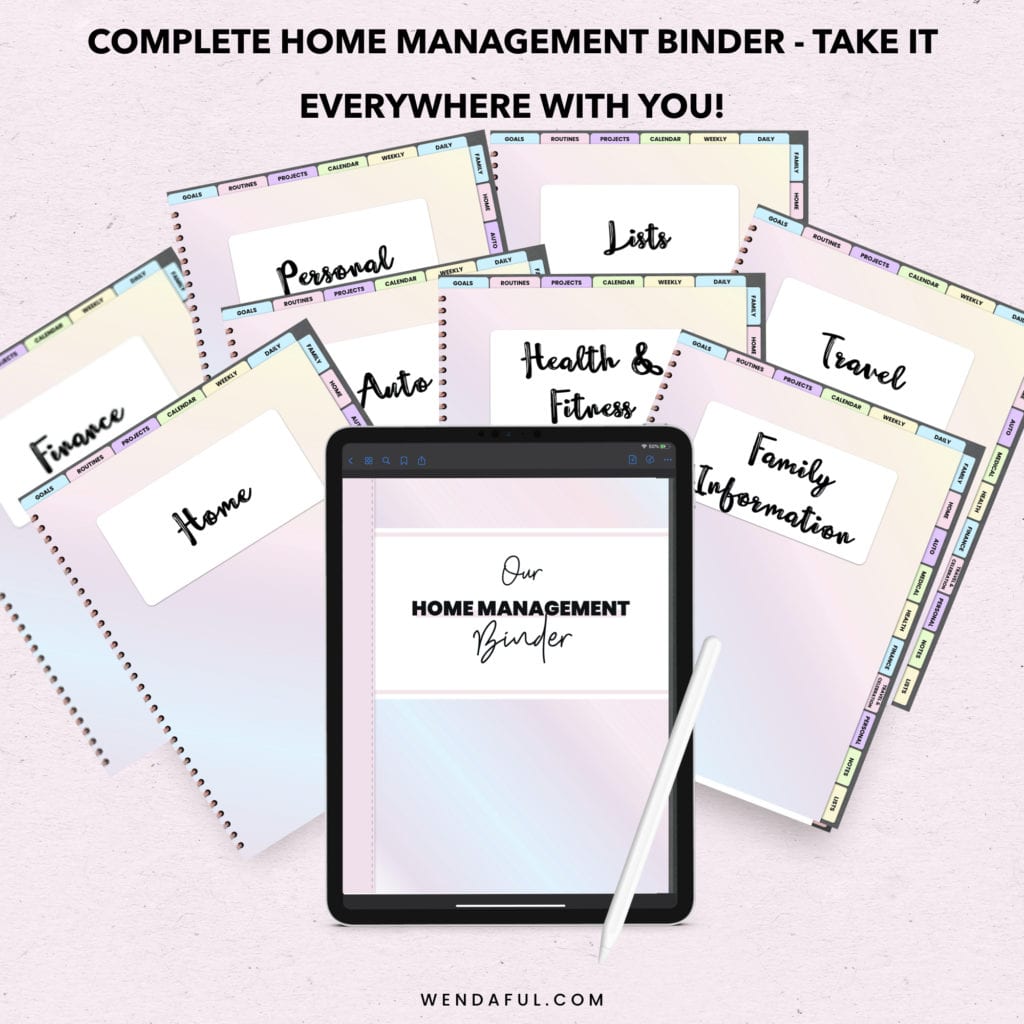 SECTION 1: GETTING CLEAR
1.1 Assess Your Past: Get clear by seeing where you've been, what you've accomplished, and how you can improve in the future.

1.2 Track Your Time: Only way to improve your time management is first by seeing where it's going. Take some time to log your time for a week or two to see how you're using your time.

1.3 Simplify & Organize: Clear your schedule and your space. Make room in your life by simplifying and organizing your life.

1.4 Your Vision & Roles: When you aren't feeling motivated your vision will help you to keep going. Your roles will narrow down what's important in your life.
SECTION 2: GOAL SETTING
2.1 Goal Brainstorming & Prioritizing: Decide which goals to work on first. Learn about the Eisenhower Box
2.2 Setting Smarter Goals: How to write your goals for success. How to focus on your goals. How to break down your goals to make them happen.
2.3 Scheduling Your Goals: Find time to work on your goals during the year. Plan in 3 month cycles to minimize getting overwhelmed
SECTION 3: PLANNING
3.1 Making time in your schedule for goals: Find time to design your ideal day. Learn the rocks, pebbles, and sand analogy to help you make time for the important things in your life. Learn about what to plan in what blocks.
3.2 Projects vs. Recurring Tasks: Learn the difference between projects and recurring tasks. Learn how to plan for each with your to-do lists.
3.3 Using Your Planner: Learn how to plan every year, quarter, month, week and day.
SECTION 4: STREAMLINING
4.1 Routines & Habits: Come up with habits every month you need to work on to make your life easier and to help you reach your goals faster.
4.2 Processes & Systems: Level up by creating templates or automating parts of each process in your life. Use systems to help you organize your life.
4.3 Tracking: If you don't track your stats you won't know where you're going. Stay on track by setting up times to keep track of your goals.
4.4 Lists to Stay Organized: Keep track of everything in your life with these lists so you can stay on top of things and get organized once and for all.
SECTION 5: FOCUS
5.1 Productivity Hacks: Learn tips and tricks to help you stay focused and get the right things done. Find ways to make productivity easier.

5.2 Beating Procrastination: Learn some tricks and tips to help you manage your mind and prevent it. The next time you procrastinate you will know exactly why and what to door how to prepare to overcome it in the future.
5.3 Self Care: Avoid getting burnt out by scheduling time off and taking care of yourself. Relaxation and rest recharges you to make sure your productivity stays high consistently.
SECTION 6: TAKING ACTION
6.1 Getting Started: Learn how to stop waiting for motivation and just get started. Learn ways you can get started with taking action right now.
6.2 Planning Tomorrow, Today:
Learn why planning the night before sets you up for success and what to do each and every day
6.3 Staying on Track:
Learn how different methods of tracking and reviewing will help you to maintain your motivation to finish your goals rather than just starting and quitting
SECTION 7: ONLINE PLANNING SYSTEM
7.1 Online vs. Paper Planning: Learn the pros and cons of both systems and how to incorporate both in your life
7.2 How to Schedule your Events & Tasks into your Calendar:
Learn the meaning behind "What Gets Scheduled, Gets Done"
---
WONDERFUL PLANS 200+ PAGE HOME MANAGEMENT BINDER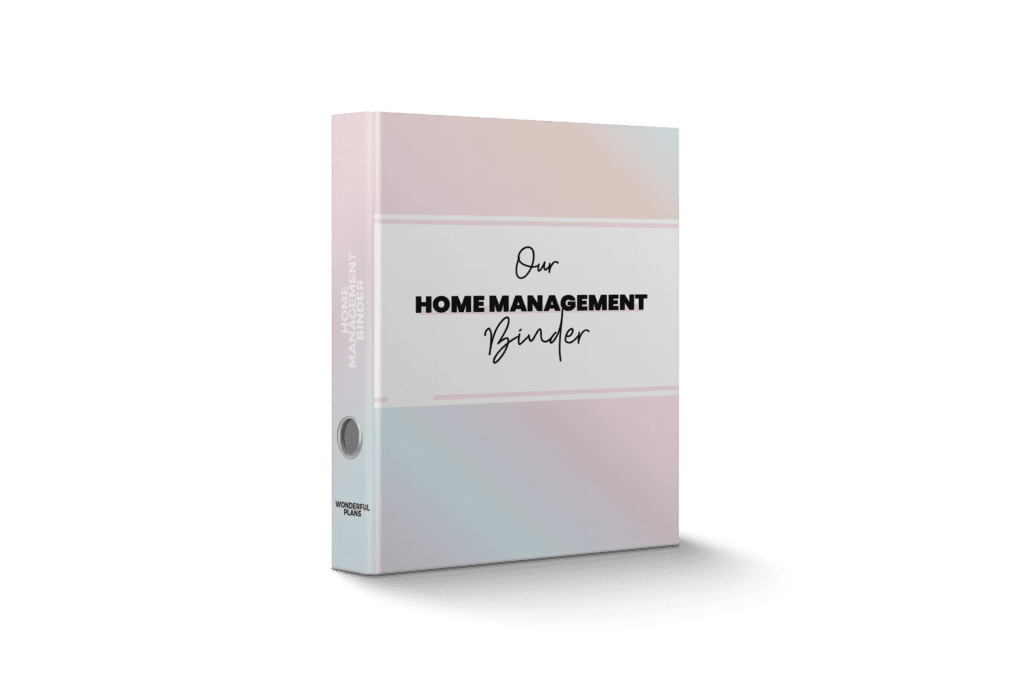 FAMILY INFORMATION
Contacts, safety information, and other important family information you may need
HOME & AUTO
Auto and home maintenance, cleaning routines, schedules and checklists, home project ideas, home appliances info, home decor info, and more
FINANCE
Track your income, expenses, bills, savings, debts, online orders and see your entire year's summary.
HEALTH AND FITNESS
Track your weight, body measurements, food, workouts, and moods. Keep track of the entire family's dentist/doctor appointments, health care info, medical info, and get into the best shape of your life.
VACATIONS & CELEBRATIONS
Keep track of everything else in life with these packing lists, shopping lists, workflows, annual trackers, gift ideas list, holiday shopping lists, project task lists and more.
PERSONAL CARE
Keep track of hobbies, personal grooming services, tv shows, books, and movies.
MISCELLANEOUS LISTS & TRACKERS
Keep track of other things that may not fit into any of the above categories with these annual trackers and lists
BLOG PLANNER
Keep track of blog posts, affiliates, sponsors, stats and analytics to ensure your blog is growing
"Love Them All !!!
I have been procrastinating for months about setting up planners and organising my life. There is just so much out there and a little overwhelming to be honest. The Wendaful Planning Complete Bundle has made everything so easy for me to get my life in order so I can breathe a little calmer and enjoy my life more"
– Natalie B.
"Perfect product! I am excited to start planning. This planner is a wonderful resource and will be a great system helping me to organize work and home life."
– Mary-Kate F.
"Great product I love that they are printable and that I can download what I want. I love how organized everything is.."
– Gina B.
THIS IS NOT FOR YOU IF...
NOW YOU HAVE A DECISION TO MAKE...
1. YOU CAN KEEP FAILING TO GET THINGS DONE AND STAY OVERWHELMED AND BUSY
OR
2. YOU CAN USE WONDERFUL PLANS TO ACTUALLY ACHIEVE YOUR GOALS AND GET YOUR LIFE ORGANIZED ONCE AND FOR ALL
If you're ready to go from chaos to clarity and give your daily life a major upgrade, this is for you.
That's a pretty easy decision, right? So what are you waiting for..
HERE'S EVERYTHING YOU'RE GOING TO GET:
Your Instructor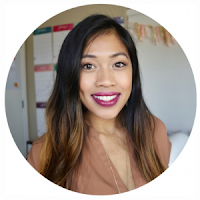 I'm Wenda Benavidez, a stay-at-home mom blogger and a super planner nerd. I am always looking for the most efficient ways to get things done and make the best use of my time.
I believe anyone can do anything as long as you have a good, strategic plan. Trying to work on my side projects and still handling everyday mom life was a struggle. I was never able to find a planner that suited all of my needs. I love making plans, but I felt those plans never turned into action. It was never clear enough, or it was always missing that secret key to move it from plan to action. & That's how this system was born.
I have a passion for helping planner girls like you, get organized, so you can focus on living a happy and productive life. It's time to get past the planning phase and start taking action on all of those plans! We're going to go through this together, one baby step at a time.

Course Curriculum
Welcome
Available in days
days after you enroll
Worksheets & Planners
Available in days
days after you enroll
Introduction
Available in days
days after you enroll
Frequently Asked Questions
When does the course start and finish?
The course starts now and never ends! It is a completely self-paced online course - you decide when you start and when you finish.
How long do I have access to the course?
How does lifetime access sound? After enrolling, you have unlimited access to this course for as long as you like - across any and all devices you own.
What if I am unhappy with the course?
We would never want you to be unhappy! If you are unsatisfied with your purchase, contact us in the first 30 days and we will give you a full refund.
Is this another planner?
Although there are some planner printables inside, it's not just a planner. This is more of a system. One to help you create a super productive day by implementing some practical strategies that work with you. I'm sure you don't need another planner. They almost never solve your productivity problems. You can use this system with any planner you currently have.
What size is the workbook?
The pages come in both standard Letter size and Half Letter Size (Which can fit A5 sized binders). But there are certain planning pages that comes in multiple planner sizes such as half letter, a5, a6, personal wide and pocket.
Will I receive anything in the mail?
No, you will receive instant access to this teachable course with PDF's and zip files where you can download it at your leisure.
How Do I Print it Out?
I offer several options for printing. In the file you will find different formats to print all the worksheets at once or individually (which is the preferred method). The individual worksheets is the way to go so you can print multiples of the same sheet and set it up any way you like. The download is in a zip file which includes multiple folders, find what you want to print and print the number of copies you want of each. – The half letter printables are formatted to be printed on any size paper (a4, letter, or pre-cut paper, etc) - Just be sure to print at 100% or actual size How to Resize Inserts: https://www.wendaful.com/2017/11/how-to-resize-printables
Do I have to print it out?
Alternatively, you can fill this out by importing the complete workbook into a PDF annotation app such as GoodNotes and fill it out digitally so you can save ink and paper! I also included a hyperlinked digital home management binder so you don't need to print anything out at all!
I've tried many productivity tools before, how is yours different?
Great Question! The simple answer is this not just a tool to help you be more productive. It's a system and a tool in which you can implement right away. You will learn actionable strategies to create your most productive day and week. It works with your behaviors to help you be more productive, and keep you that way.
How can I make sure I follow through on this?
If you like checklists and need to follow one to go through this course, then be sure to check out the quick start checklist! It tells you what you should be doing in order to set up your productive life!