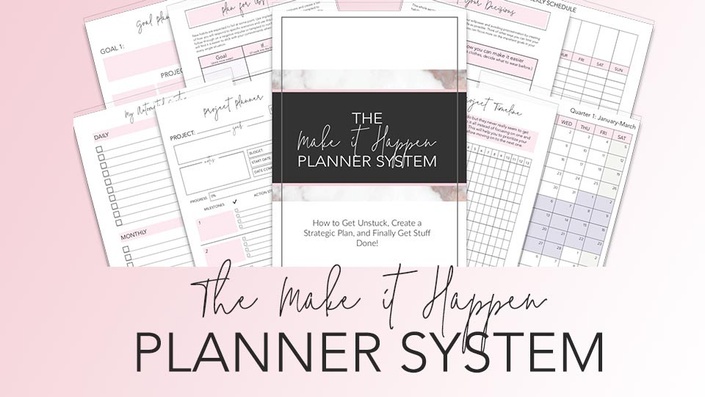 Make it Happen Planner System 2019
How to Get Unstuck, Create a Plan, & Finally Get Stuff Done!
We all know that in order to be successful, we must take action. It's simple, right? Then why is it so hard to do?

Do you struggle with how to structure and schedule your days and weeks to be productive?

Does it feel like you are always planning but never taking action?
Do you ever feel like it's impossible to take time to enjoy life?
Does it feel like you never finish anything because you are so busy with life's everyday tasks?
Did any (or all) of the above sound familiar?
Good.
Then you are in the right place.
The secret to succeeding is having a plan and a system in place to take action on it.
You have set your goals, you know what you need to do, but somehow you are stuck and feel like you are frozen. You want to move forward in life, but for some strange reasons weeks go by and you realize you are not making progress. Can you relate to this situation?
Well, you are not alone.
You see, a few years ago I was in your same place, having difficulties making positive changes to my life and pursuing my goals. I started researching how I could have been more productive and I finally designed my very own system, that has allowed me to thrive since then.
Do you want to discover what made me successful?
Goals are great, but systems are the true secret to turning them into reality. "Systems? Why should I waste my time working on systems?" you may be wondering.
Well, let me explain.
Goals give you a sense of direction of where to go but don't help you to be present in the moment, which is the most important phase, as it is what really makes them happen.
Goals focus too much on the end result rather than the process. Don't you want to enjoy your life now and each day, rather than waiting for something to happen?
My planner will help you create rules, routines and set up your systems so you can achieve your ultimate life, while enjoying the process. Thanks to the power of the "Make It Happen Planner System", you will discover a new way to organize your day for obtaining the best results and finally taking concrete steps toward the life of your dreams!
What if your planner actually helped you get things done daily, taught you how to beat procrastination, increased your productivity, and gave you the time and independence to enjoy your life?
Does any of this sound familiar?...
Trying to keep up with several planners to just end up getting overwhelmed and never using any of them


Printing a million planner inserts in hopes of finding or making your own perfect planner system


Missing deadlines and appointments because you have too many calendars to keep up with



Losing all of your great ideas and projects because you scattered them throughout a million notebooks, planners, notepads and more
When you set up a system that allows you to be more productive, you will discover how natural it will feel over time.
You will learn how to:

Figure out when your peak performance time is

Prioritize and organize your tasks

Focus and finish one project at a time

Avoid distractions

Make decisions decisively

Take care and treat yourself

Learn how to use small pockets of time

Banish overwhelm

Get started and take action now
You can achieve ALL of this
success by simply using your planner
system more strategically.
I want to introduce you to my secret weapon:
The Make It Happen Planner System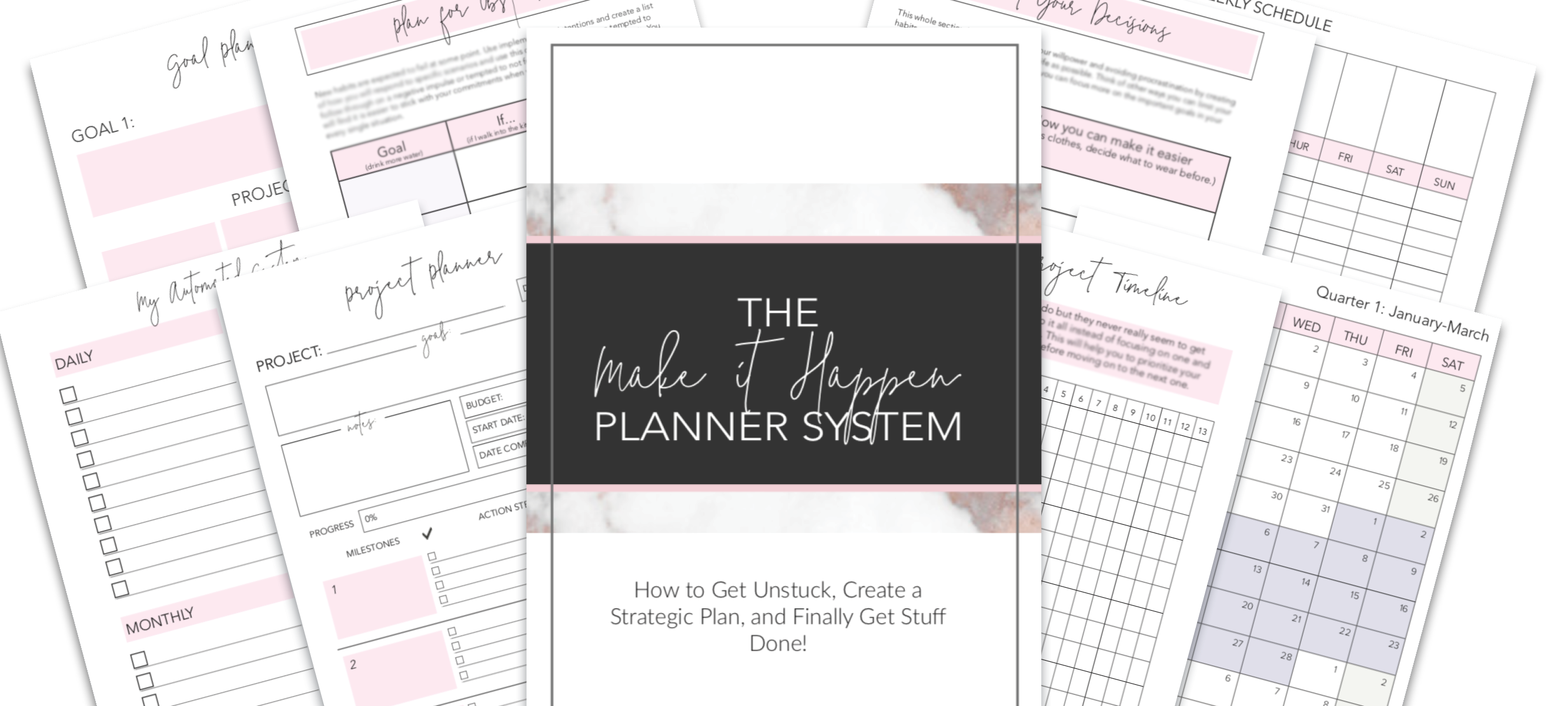 Discover ALL the strategies I've learned from years of studying time management and productivity -- strategies that will dramatically save you time, end procrastination and help you get stuff done.
All in an extremely actionable planner and workbook.
One you can use EVERY SINGLE DAY.
Here's what you will learn from using this system:
How to set big goals that will keep you motivated throughout the year

How to create detailed 90-day action plans that will keep you moving forward quarter after quarter

How to plan out your projects and create an action plan every day

How to keep track of everything in your personal and work life

How to create habits that you can stick to

How to create systems you can follow, to work efficiently to reduce wasted time

How to enjoy the process of reaching your goals each day

How to minimize the chance of you wasting time each day

How to review and reflect every week and month so you can see the progress you're making on your goals

How to create your own planning system that customizes and changes when you need it to
---
The Make It Happen Planner System is based off this simple 3 step planning process: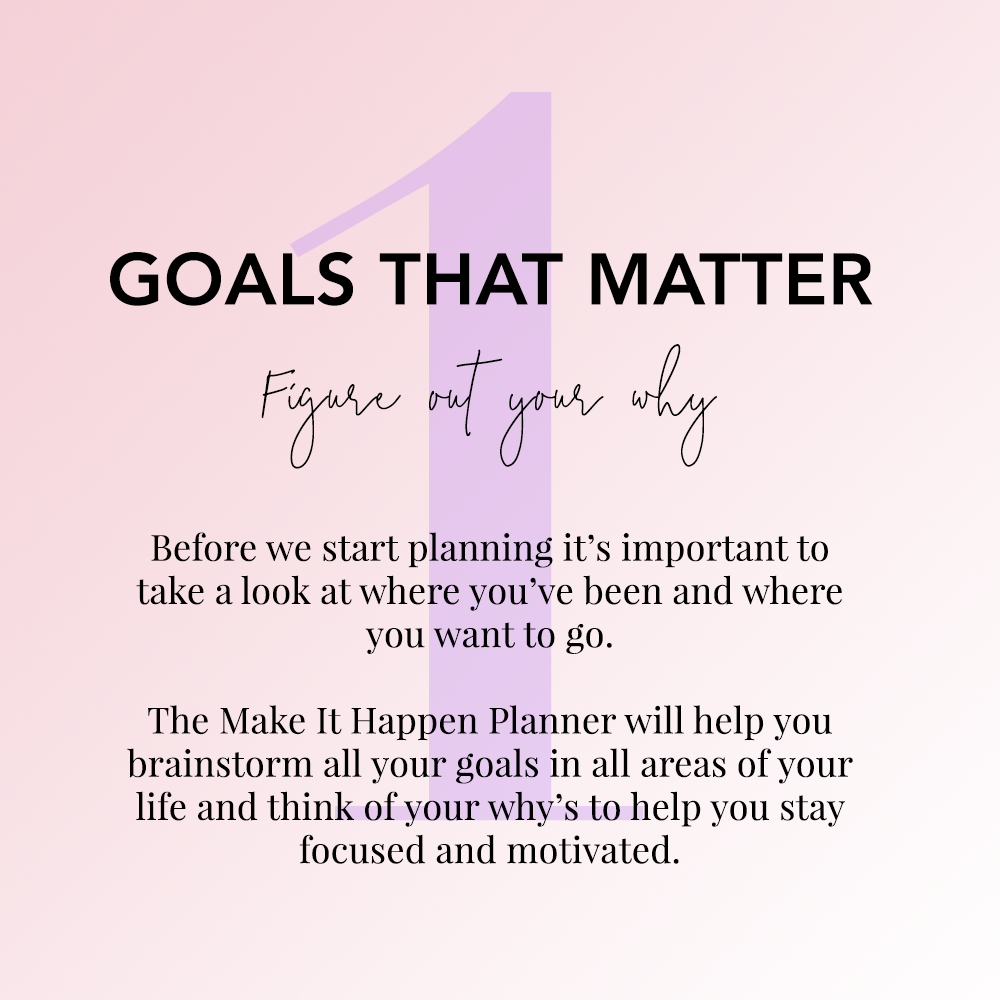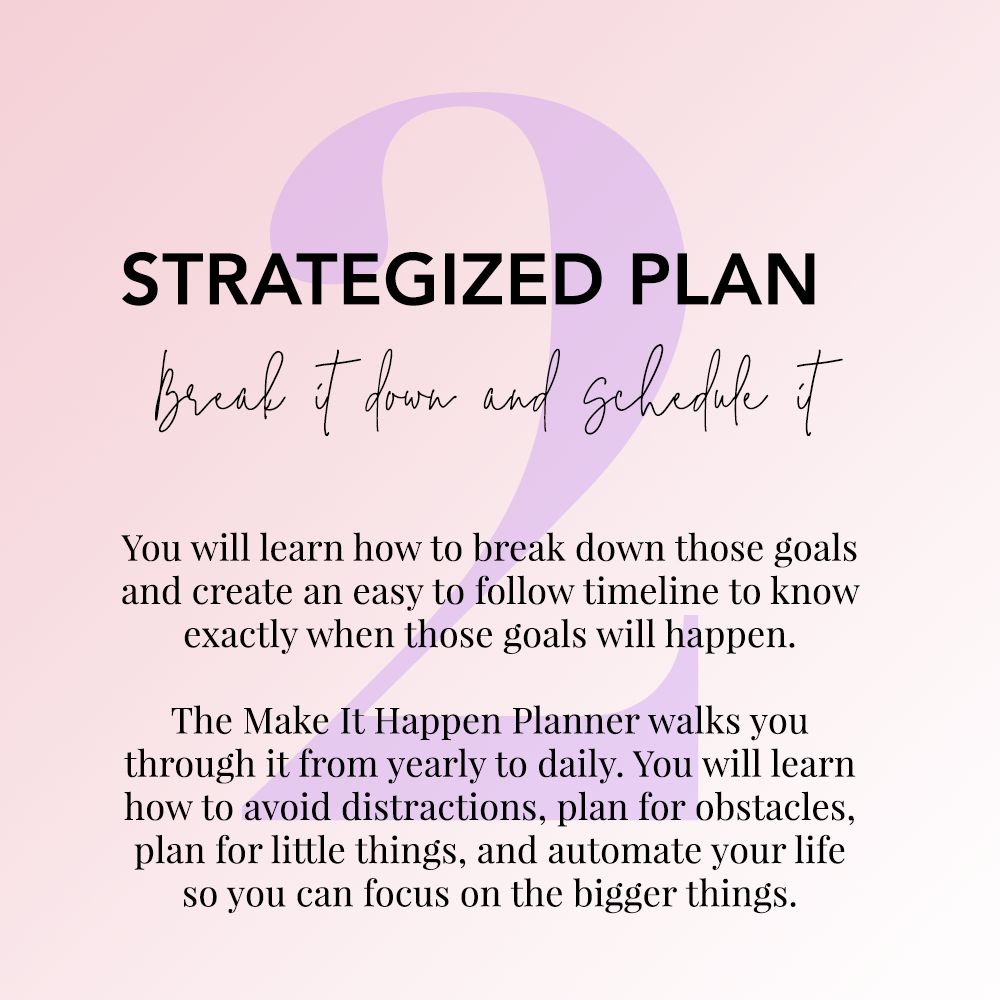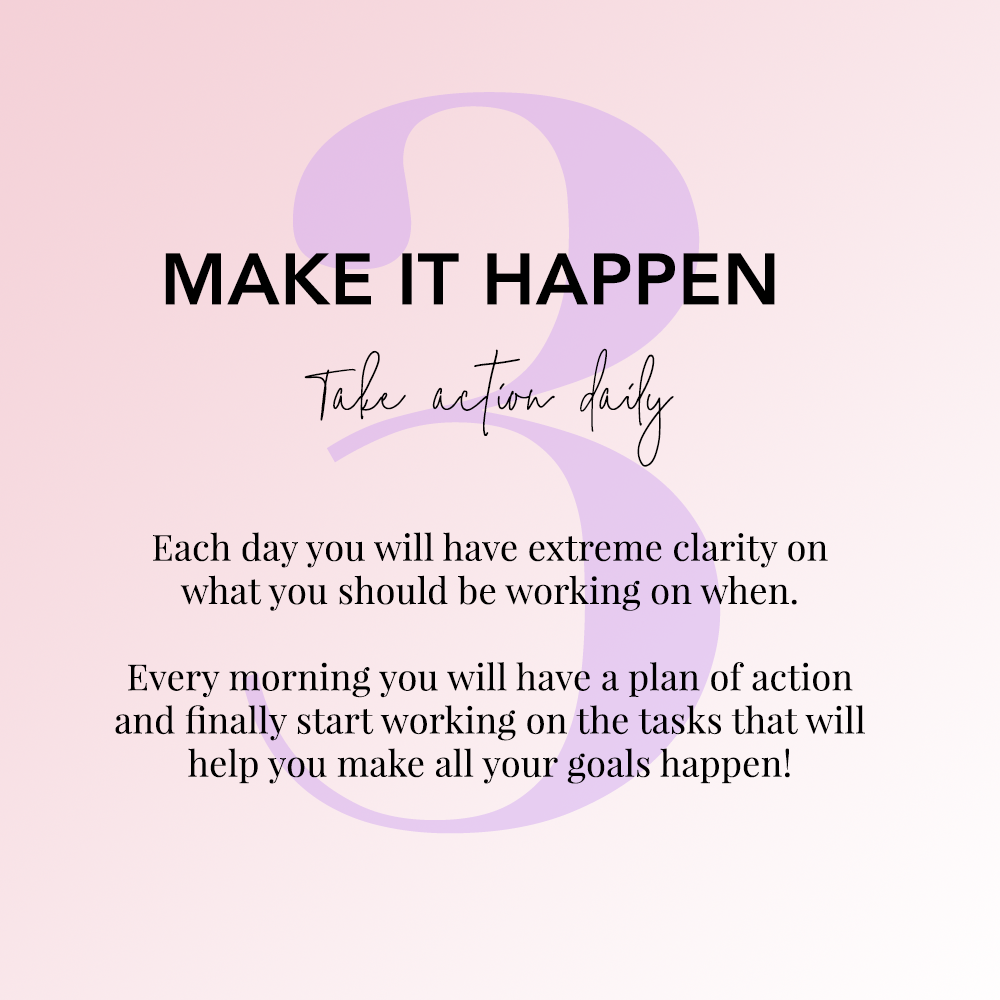 WHAT'S INSIDE THE PLANNER?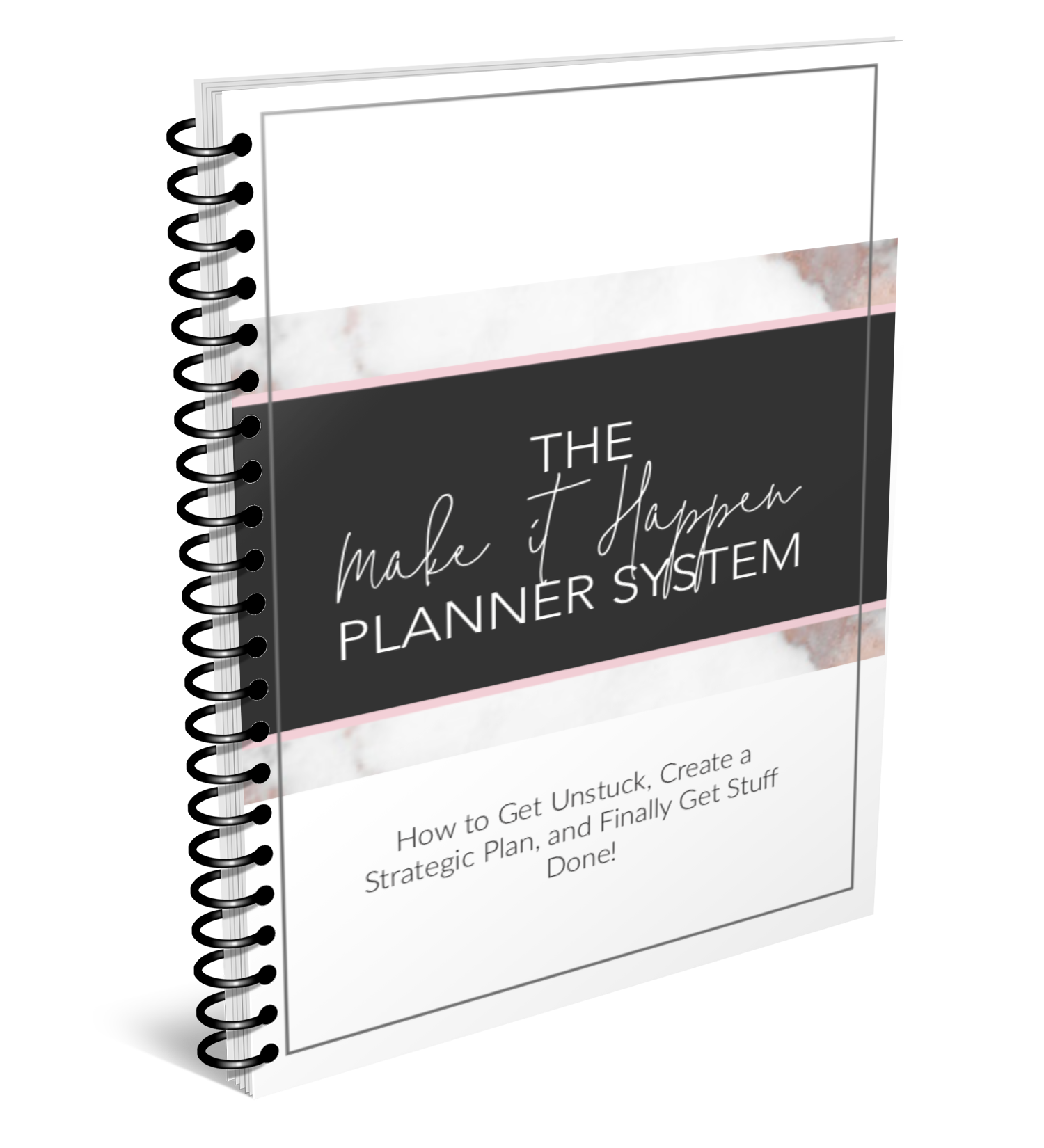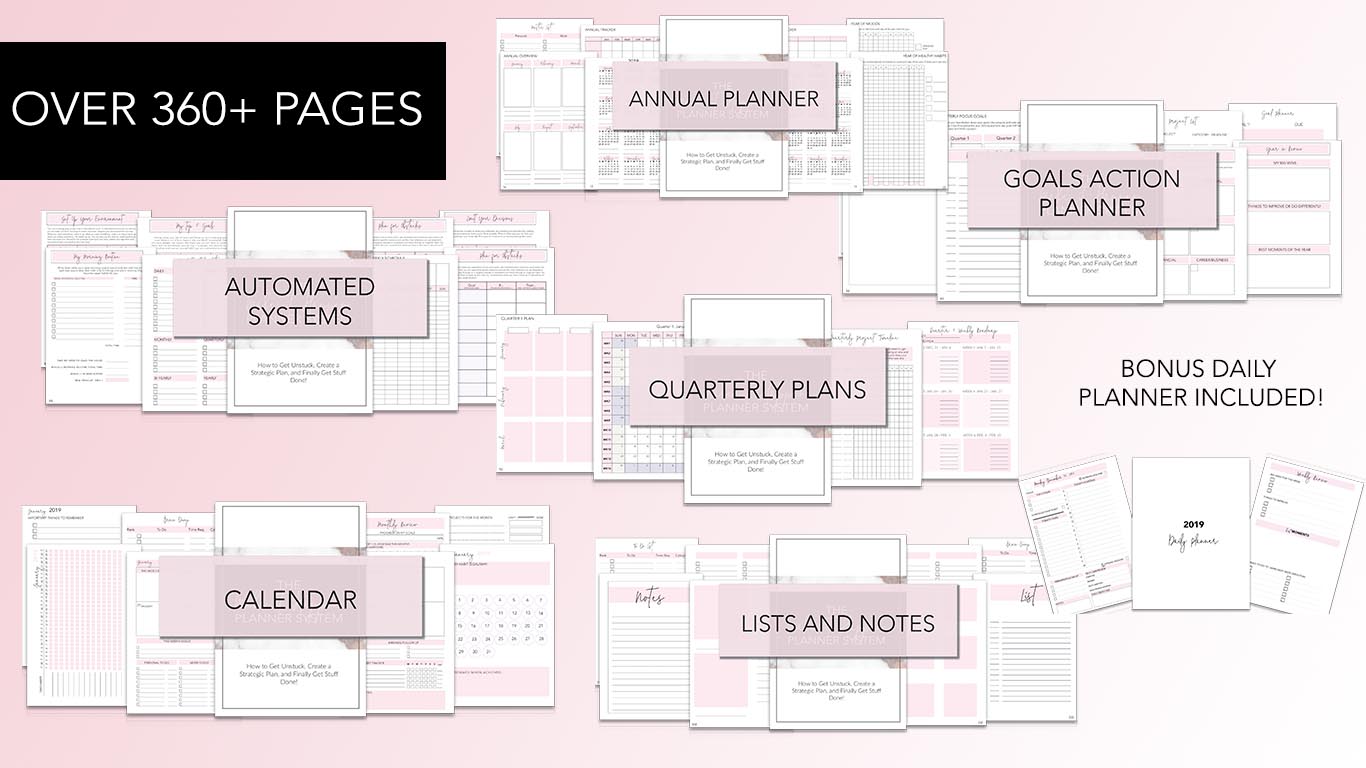 ---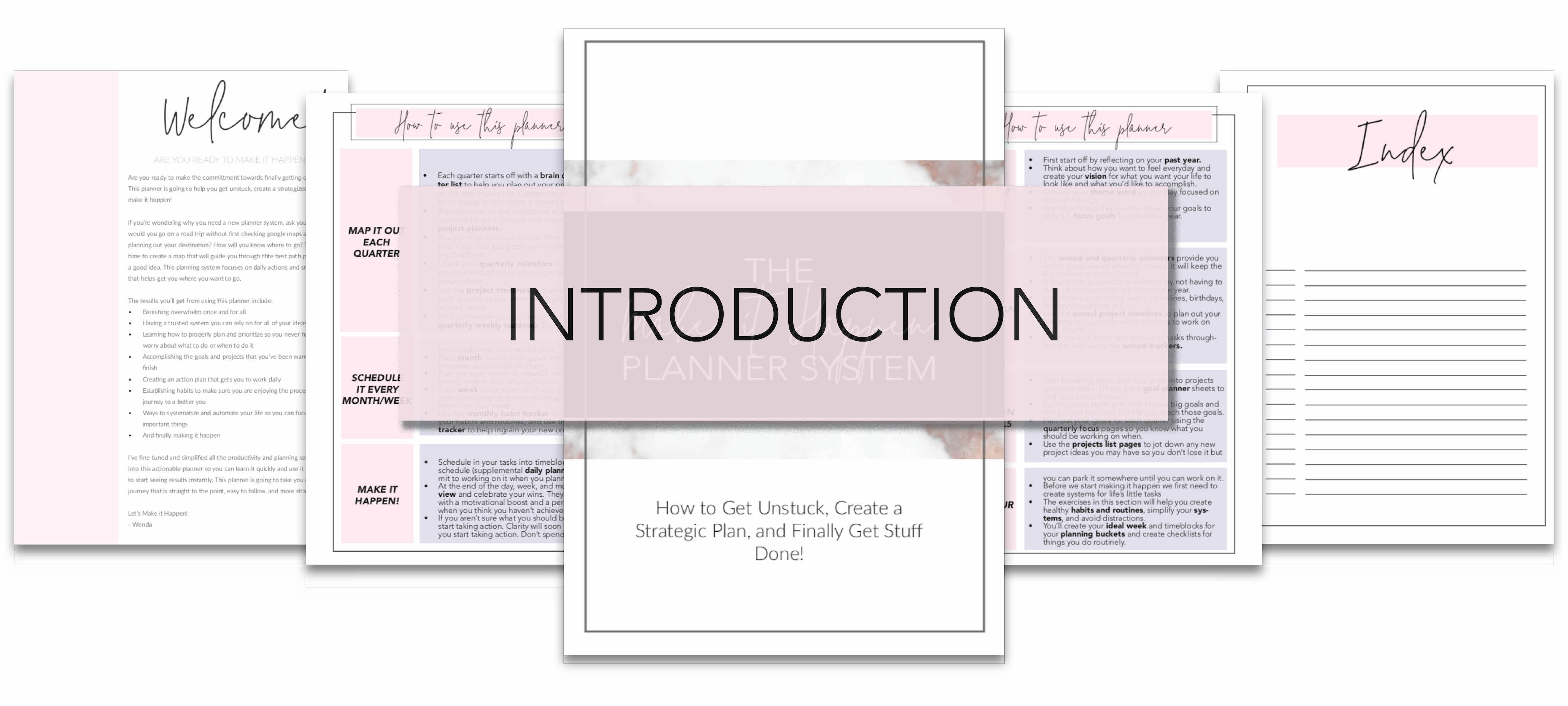 How to use this planner guide
Index to help you keep track of your important goals, lists and projects throughout the year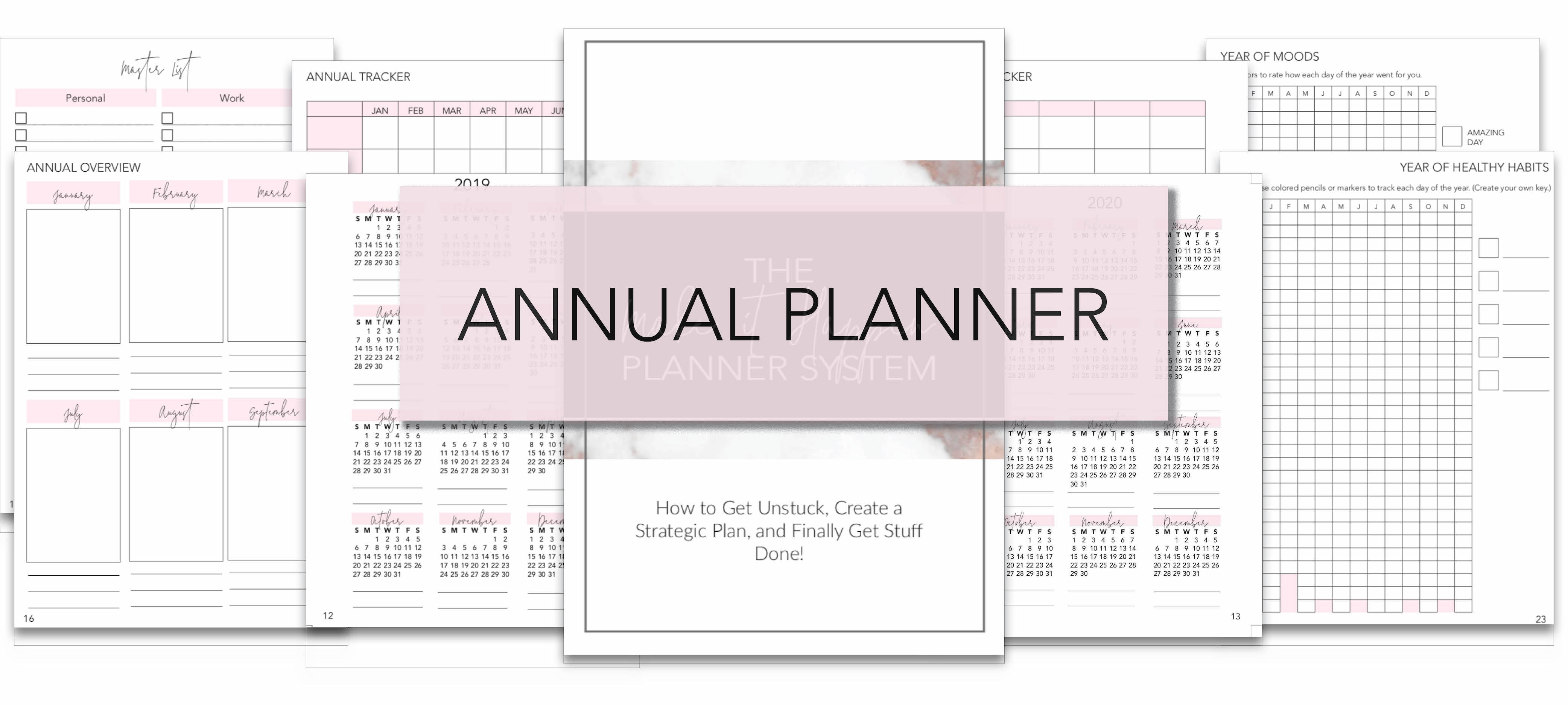 Plan out your year to see all of your commitments in one place
Visually balance your entire year
Annual Trackers you can use for anything (chores, income, metrics, etc.)
Year of Moods
Year of Healthy Habits (use it to track workouts, healthy eating or anything else you want)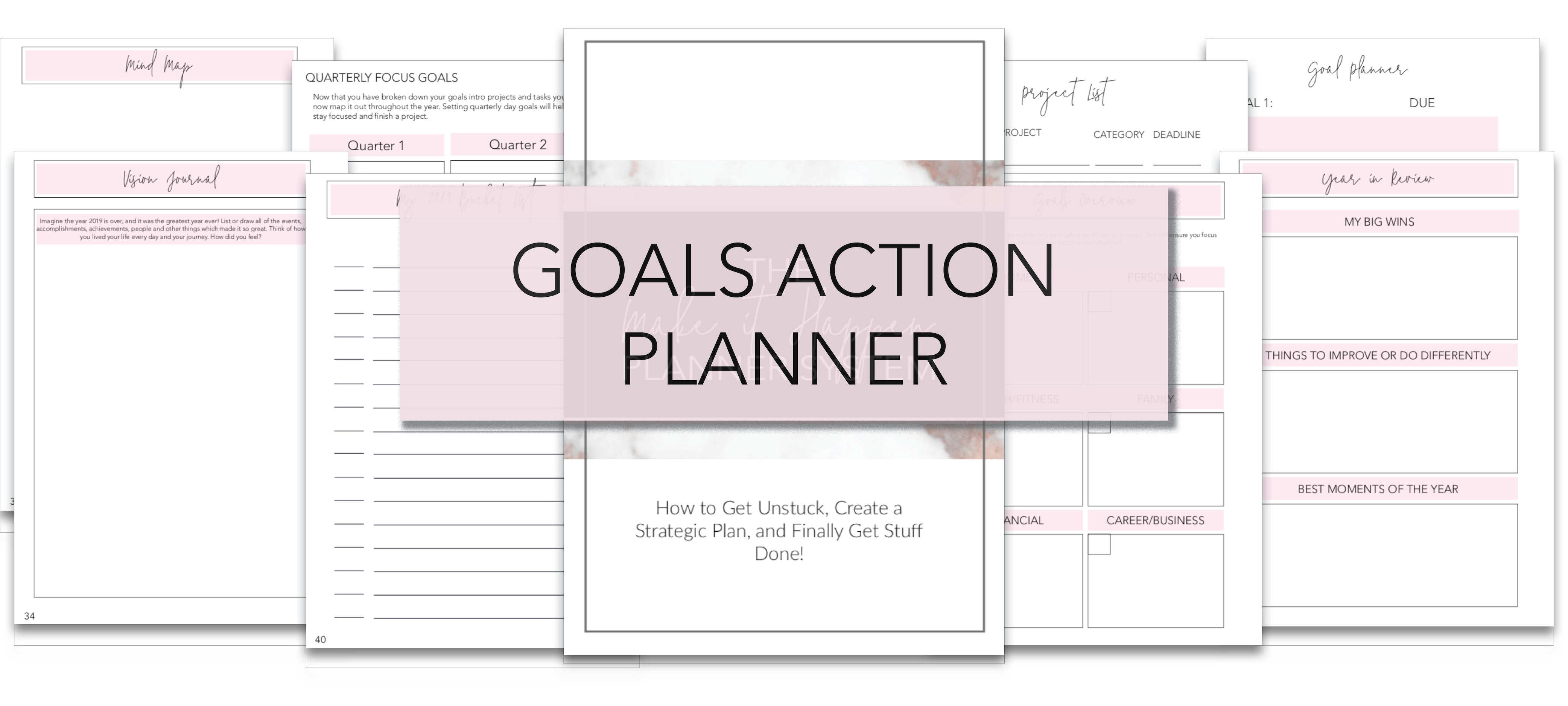 Make it easy to set goals and reach them by breaking it down
Guided questions to help you figure out your top goals
Stay motivated by figuring out your why's
Balance your life by creating goals in all areas of your life
Break down each goal to make it more manageable
Schedule it out throughout the year to make it real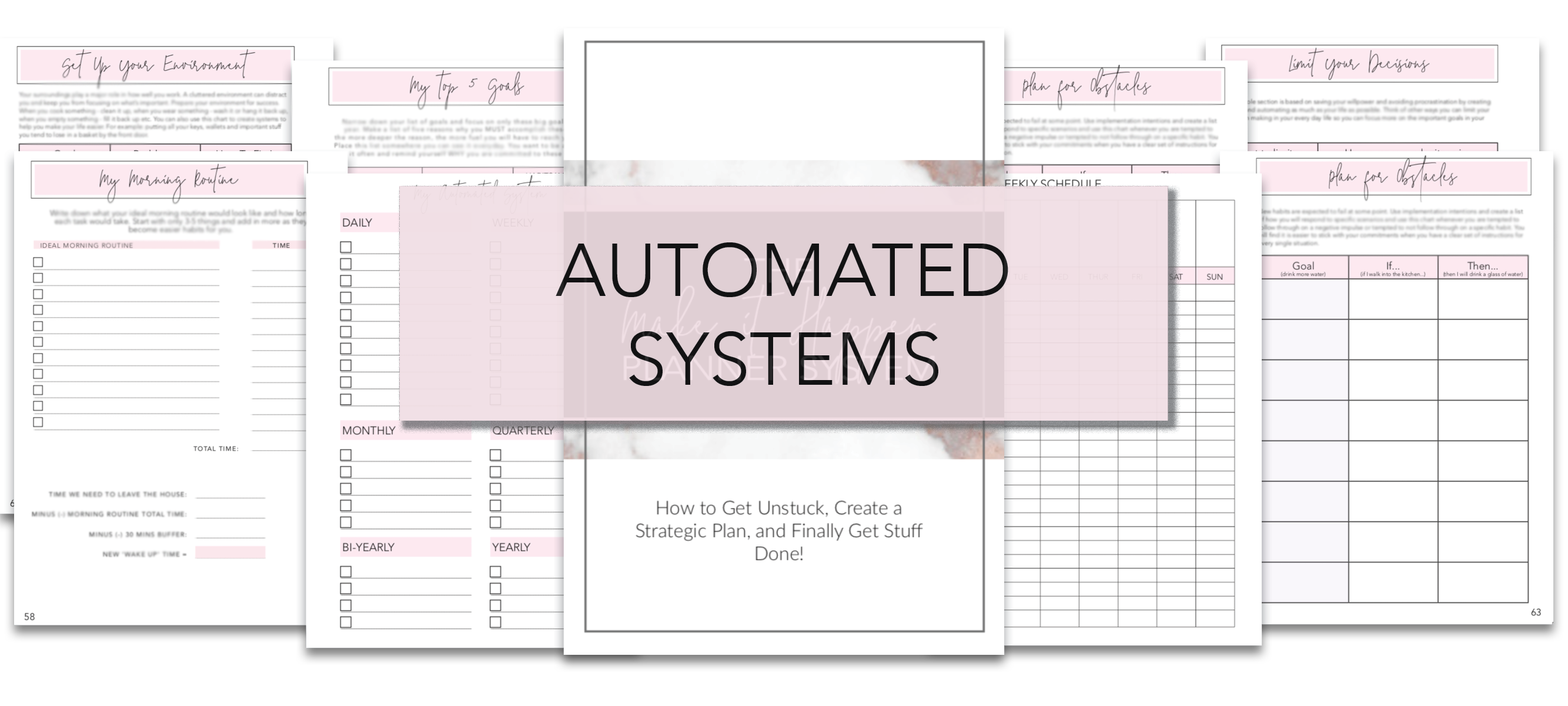 Create routines, automate your tasks, and plan for obstacles so you can focus on the bigger things.
Guided prompts and worksheets to help you end procrastination, and to help you set up a system for success
Workflow checklists and routine tasks to help you follow a system, which will increase your productivity and efficiency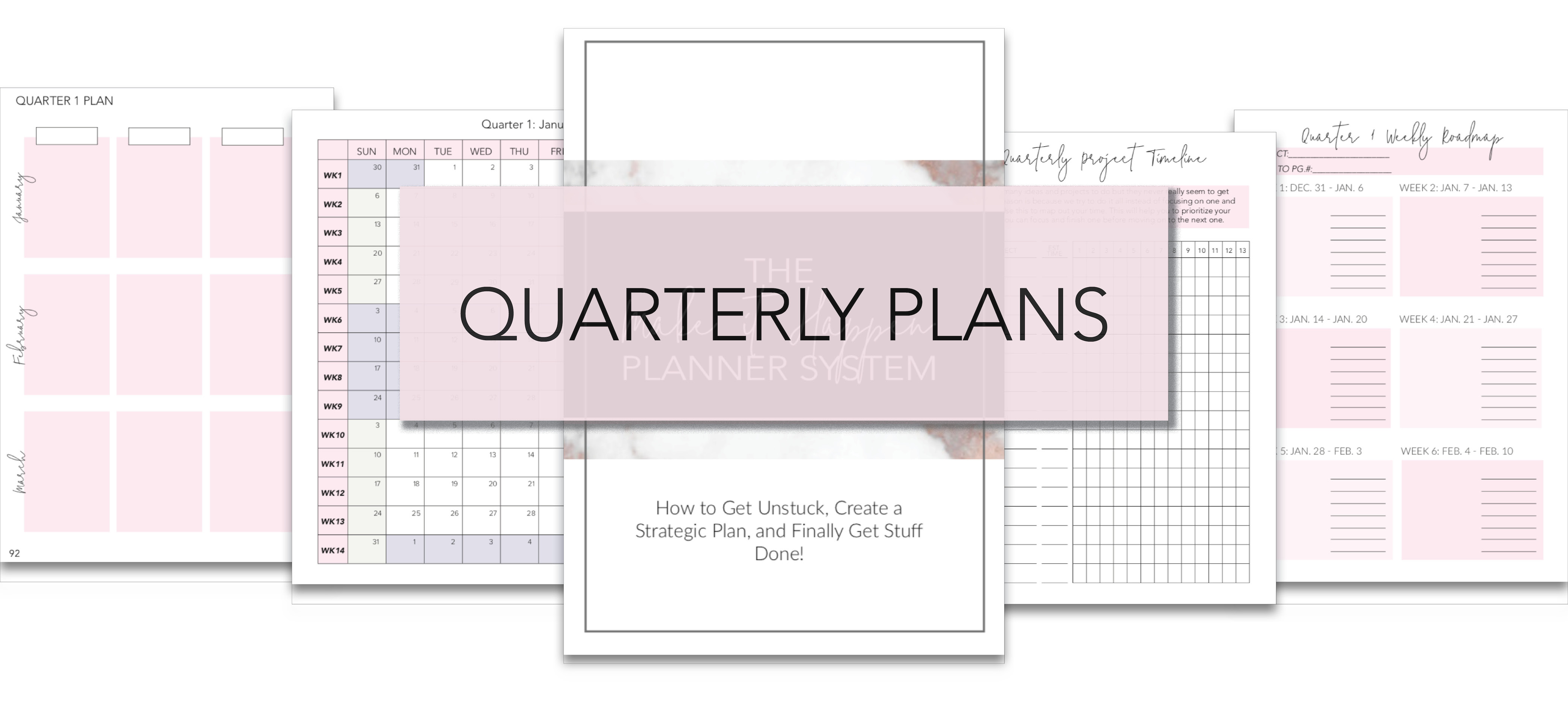 Set a new goal each quarter. Planning 90 days is great because it's short enough to stay focused, but also long enough to get things done.
Schedule out your tasks for the entire quarter with the roadmap planner
See at-a-glance when to plan out your projects
Create a plan to balance your personal and professional goals each quarter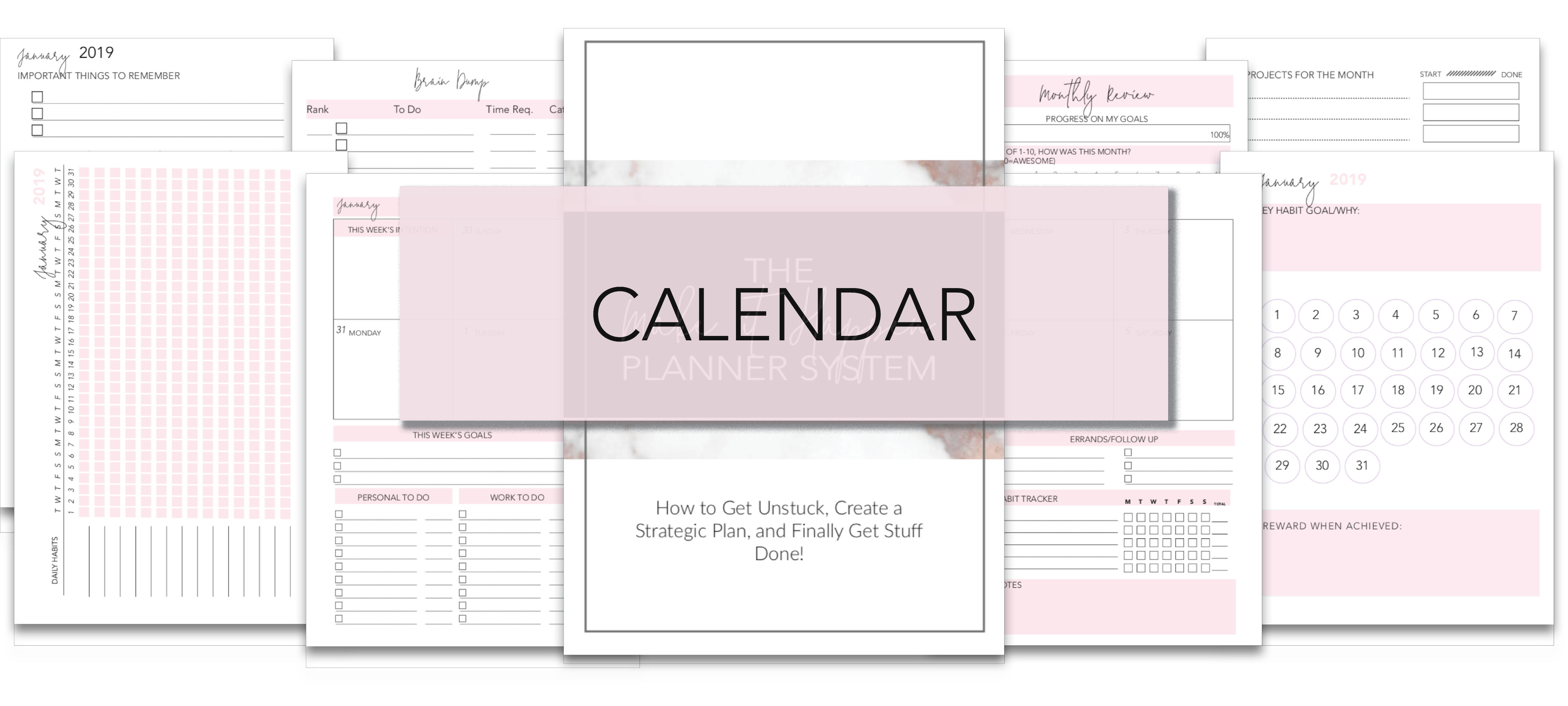 This monthly and weekly calendar includes everything you need to keep track of your habits, goals, and all the little tasks you need to reach your goals consistently.
Month on two pages
Month at a glance
Week on two pages
Daily Habit Trackers
Key Habit Trackers
Monthly Reviews
Brain Dump Lists
& Finally a section for all your lists, notes, and more.
Large and medium sized squares are perfect for post it notes whether you want to use it as a meal planner or jot down an editorial calendar -- the possibilities are endless!
Lists pages for shopping lists, books to read, movies watched, or anything else you'd like to track
To-Do list pages
Brain Dump pages
Notes pages
Dot Grid pages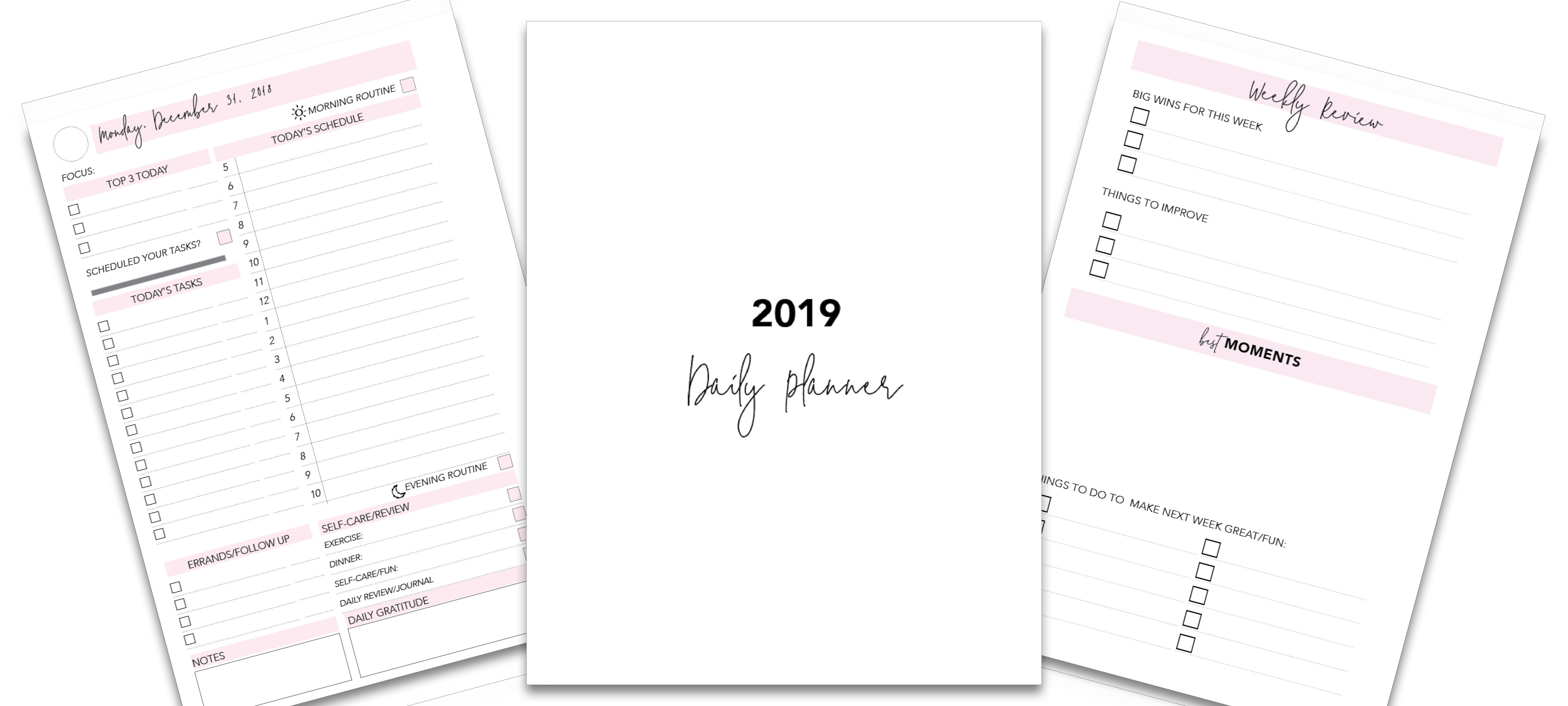 BONUS!
A separate daily planner to schedule your days
Gratitude section to help you enjoy life every day
Space for self-care and reviews
Includes a 2019 dated calendar as well undated pages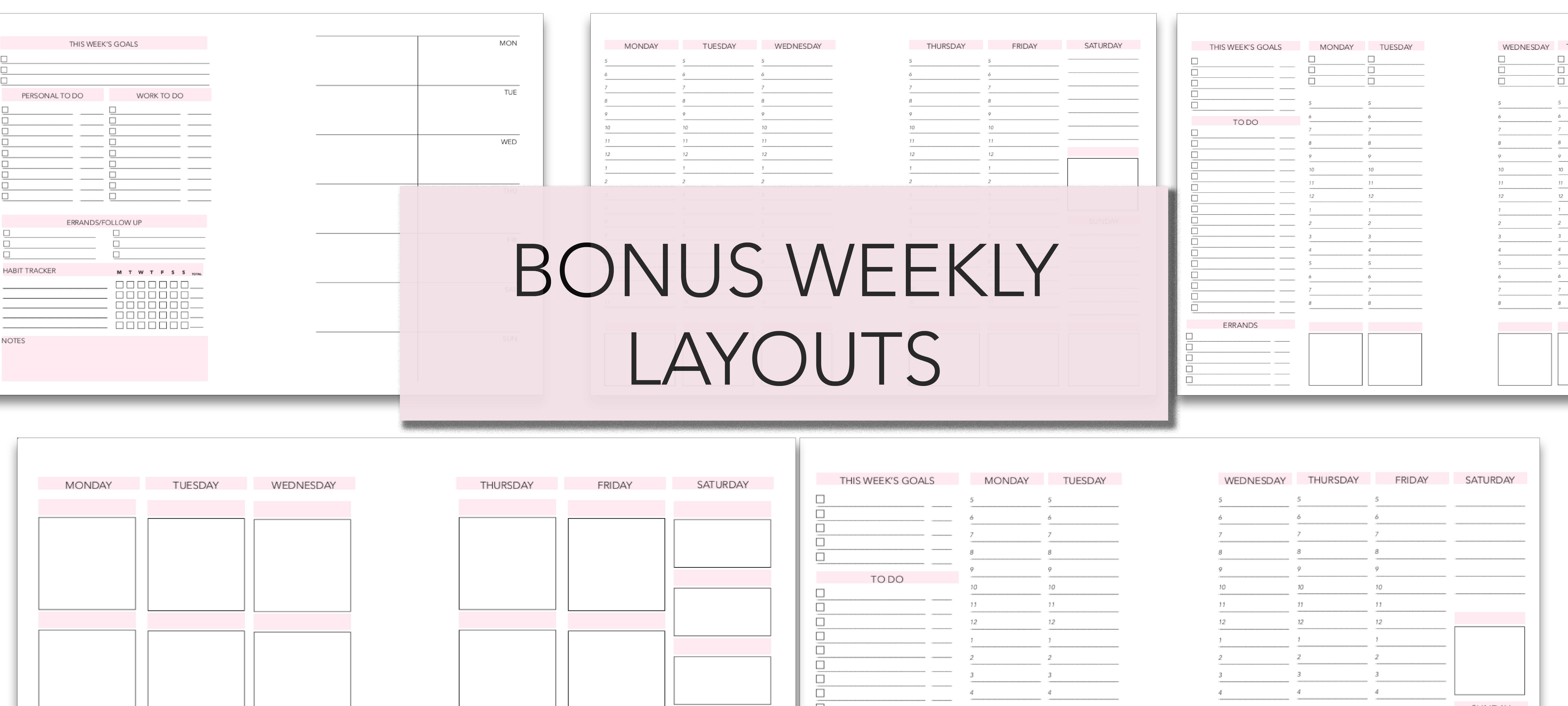 UPDATE: MORE BONUSES JUST ADDED!
5 Undated Weekly Planners Layouts
Print specific sections/inserts from the planner alone without having to print the whole planner at once

Includes over 30 planner inserts!


Use these to create your own very unique planning system!
When you order this planner you aren't just getting the planner. You will be getting great time management and productivity tips to help you create a system that will last.
Here's what's also included:
Get Stuff Done eBook
Visuals to help you plan your day and learn how to be more productive
How to print, cut and bind your planner
Tips and tricks to help you continue succeeding in your daily process
Checklists to reference and repeat

Cleaning checklists
Monthly Planning Routine Checklist
Weekly Planning Routine Checklist
So, the question is: are you ready to improve your organization and start making tangible progress towards your best life? Let's get started now.
Your Instructor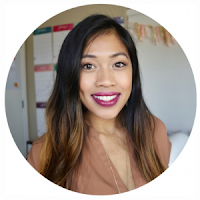 I'm Wenda Benavidez, a stay-at-home mom blogger and a super planner nerd. I am always looking for the most efficient ways to get things done and make the best use of my time.
I believe anyone can do anything as long as you have a good, strategic plan. Trying to work on my side projects and still handling everyday mom life was a struggle. I was never able to find a planner that suited all of my needs. I love making plans, but I felt those plans never turned into action. It was never clear enough, or it was always missing that secret key to move it from plan to action. & That's how this system was born.
I have a passion for helping planner girls like you, get organized, so you can focus on living a happy and productive life. It's time to get past the planning phase and start taking action on all of those plans! We're going to go through this together, one baby step at a time.

Course Curriculum
Introduction
Available in days
days after you enroll
Download The 2019 Make It Happen Planner System Here
Available in days
days after you enroll
Download Just The Inserts From the Planner (A5 Size)
Available in days
days after you enroll
Frequently Asked Questions
When does the course start and finish?
The course starts now and never ends! It is a completely self-paced online course - you decide when you start and when you finish.
How long do I have access to the course?
How does lifetime access sound? After enrolling, you have unlimited access to this course for as long as you like - across any and all devices you own.
What size is the Make It Happen Planner?
The pages are standard A5 size. They are 148 x 210 mm or 5.8 x 8.3 in inches. They will fit A5 sized binders or you can bind them by using a disc bound system such as the Arc, TUL planner, or Happy Planner discs.
Will I receive anything in the mail?
No, The Make It Happen Planner System is a PDF download. You will receive instant access and can download it at your leisure
What is the return policy?
Due to the digital nature of this product, we do not issue refunds.
How do I print it out?
I offer several options for printing. In the course, I explain how to print the different formats.